LIVE WEBINAR
Culinary Bliss
Explore Ayurvedic Cooking
November 30, 2023, from 12:30 - 1:15 pm Eastern Time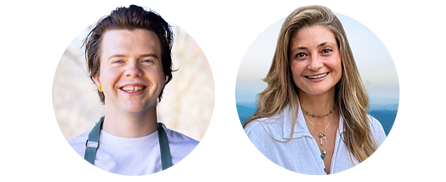 Join us for our next live broadcast from SoHum Mountain Healing Resort and meet our incredible Chef, Michael Cheyne, where he and our Ayurvedic Ambassador, Sandy Viteri, will explore the plant-centric and seasonal Ayurvedic cuisine we serve our guests at SoHum Mountain Healing Resort.
Michael will discuss how Ayurvedic principles guide his cooking, how he purchases from local farms, what the menu can look like for our guests, and we will also show off some of his delectable creations!
We look forward to seeing you online for our LIVE broadcast from SoHum Mountain Healing Resort.
During this live broadcast, both Michael and Sandy will be discussing the wonderful culinary delights we prepare for our guests. Michael will explore the Ayurvedic insights he lends to his mostly plant-based and vegetarian creations, how and where he sources his seasonal ingredients, and his exploration of food as a sensory experience that can act as medicine for our entire being - in body, mind, and spirit.
Michael and Sandy will also showcase some of the incredible dishes that we serve at SoHum and discuss how the dish is prepared, how the ingredients come together to support the body, and how Ayurvedic nutrition is at play in our kitchen!
You'll also find out how our meals are planned for the 7-night Panchakarma Retreat and the 3-night / 4-night Serenity Retreats and how Micheal takes into account the particular needs of each guest and the advice of their Ayurvedic Practitioners to ensure your meals support your cleansing and healing processes.
Come learn about how the incredible meals at SoHum Mountain Healing Resort can support your wellness goals, strengthen your immune system, and enhance your vitality. You'll gain invaluable insights into how Ayurvedic nutrition can promote harmony and wellness throughout your entire being.
Please note: this is a LIVE broadcast on Zoom, NOT a physical event at SoHum Mountain Healing Resort, you will receive a link to the Zoom webinar when you sign up!
During this webinar, you will learn about:
How we prepare our dishes at SoHum Mountain Healing Resort to be so much more than just delicious plates of food, but supportive nourishment for your entire being

See some of Chef Michael's incredibly beautiful dishes come to life, and hear about the ingredients and the process of shopping local and cooking seasonally

How the ancient wisdom and insight of Ayurveda comes to life in our kitchen, and hear about how Chef Michael brings this knowledge into his cooking - cooking with respect for the natural world

Find out about how we create the menus for Panchakarma and Serenity Retreats - focussing on each guests individual needs
Don't miss this opportunity to experience the incredible meals prepared at SoHum Mountain Healing Resort and learn about how food acts as both nourishment and medicine in our programs.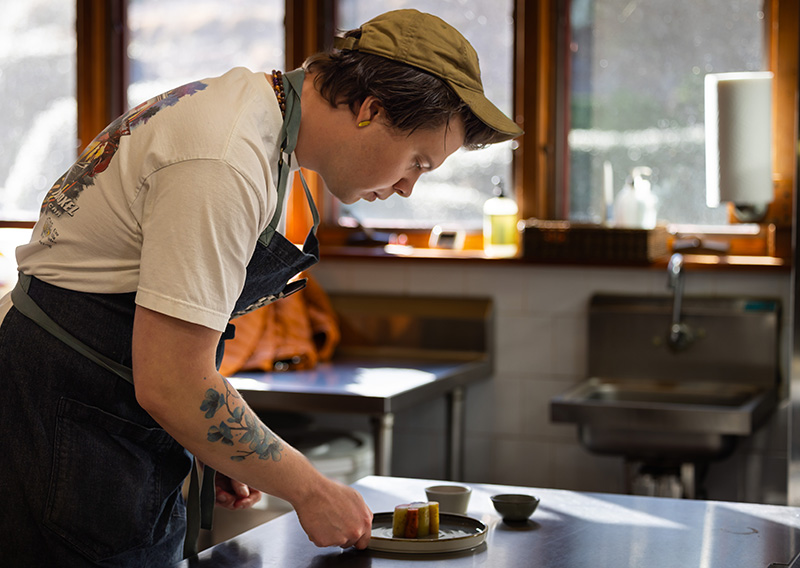 A Culinary Artist: Come meet Chef Michael Cheyne
Michael was born and raised in Nashville, Tennessee, and started working in restaurants at a very young age and fell in love with using food as a tool for healing and community growth. He has worked for some of the top chefs in the country, including Michelin Star and James Beard Award winners. Michael strongly believes in sustainable farming practices and building relationships with the community and local producers.
Come meet Chef Micheal Cheyne as he shares his passion for food and showcases the incredible edible adventures he creates!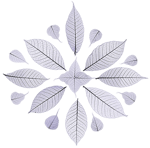 Added Bonus Savings!
And if you join this webinar, you'll learn how to receive $700 off a Panchakarma Retreat in January or February 2024 - for a booking scheduled before Dec. 31, 2023!
If you aren't able to join us at this date and time, please sign up and we will send you a recording of the webinar.